When:
September 6, 2022 @ 10:00 am
2022-09-06T10:00:00-04:00
2022-09-06T10:15:00-04:00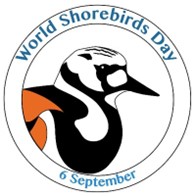 Birding with Frank─ Celebrate World Shorebird Day: This program is for adults, teens, and children ages 8 and older.
The Global Shorebird Counts, held every year around World Shorebirds Day (6 September), is one of the key events of World Shorebirds Day. This program demonstrates the importance of fieldwork, supports observers in improving counting skills, contributes to the increase of the number of birdwatchers and scientists monitoring shorebirds worldwide and pledges new citizen scientists to the world's largest bird database program.
Why count shorebirds?
Regular counts carried out by thousands of volunteers and professionals worldwide can reveal distribution, population trend or abundance of any species which is fundamental to the assessment of their status. Bird monitoring is a key tool to determine whether a population of a bird species is declining or increasing and/or is in need of coordinated conservation efforts or not.
Advanced reservations are required for all events. To register for this walk please contact us at info@sofo.org. Spots will be reserved on a first-come, first-served basis, and we will confirm your reservation by email.