SOFO Shark Research and Education Program Update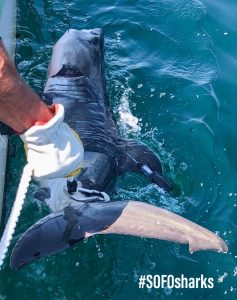 SOFO's Shark Research and Education Program Field team is pleased to announce that it tagged and released its first of this season young-of-the-year (YOY) white shark, the program's first ever dusky shark, and a thresher shark over the last couple weeks off of the South Fork of Long Island, New York.  Led by Captains Greg Metzger (SOFO Shark Research and Education Program Field Coordinator) and Matt Berkhout, the 2020 SOFO Shark Research Team includes Metzger, Berkhout, Dr. Tobey Curtis, Chris Paparo, Walter Zublionis, and Jeff Metzger.  The team proudly nicknamed the juvenile white shark "Hurricane Margaret" and the dusky shark "Cooper." A thresher shark, dubbed "Leeroy", was also tagged a few days earlier to kick off the field season.
SOFO's Shark Research and Education Program team, along with a number of collaborators, has satellite tagged and released over 30 juvenile white sharks since the program began in 2015.  The groundbreaking data we receive about the habits of juvenile sharks from this important scientific research initiative is critical for providing the necessary data to marine resource managers to establish better management plans for the health of the marine ecosystem.  All sharks are caught, tagged and released in a timely manner to minimize stress on the animals. The satellite tags will release from the sharks after a programmed number of days, float to the surface and transmit the collected data via satellite to their computers.  The tags will provide depth and temperature data from the sharks' movements through New York waters– and will provide scientific insights into the habitat use of the sharks in our region.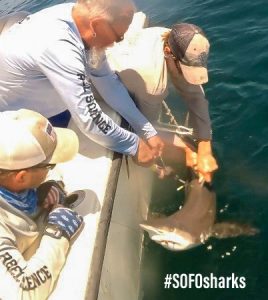 "Long Island waters are important for many shark populations. It's exciting to continue to build our data set on juvenile white sharks in this region, as well as expand research to other under-studied species, "says Curtis.  "Effective management requires effective science."
Adds SOFO Executive Director Frank Quevedo, "We are super excited for the amazing work that is being done by our research team. The information we will obtain from these species will create the data necessary to better understand these mystifying and misunderstood creatures. We are thrilled to see what lies ahead for our program for the rest of the 2020 season."
Metzger finished by saying: "As the Program's Field Coordinator, watching the first sharks of the season swim off strongly carrying their satellite tags drops my stress levels considerably. It tells me that the methodology and techniques we have been refining for years will work again this year."
---
SOFO Shark Research and Education Program 2020
The SOFO Shark Research and Education Field Team and its Shark Collaborators are ready to begin SOFO's third year as a leader in this important scientific research initiative. We have tagged 30 young-of-the-year (YOY) white sharks to date, and we are looking forward to adding to that data throughout the 2020 summer season. The groundbreaking data we receive from these juvenile sharks is critical for conservation and sustaining their populations. Thanks to the generosity of our supporters, the research team has fourteen pop-up satellite archival tags (PSAT) and two customized automatic tracking solution tags (CATS) ready for deployment. The juvenile sharks are back along the South Shore and our field team is heading offshore this week to continue the research.
---

Montauk Expedition 2019
For a look at some of the videos shot during our 2019 Montauk Expedition, check out our youtube channel.
The SOFO Shark Research and Education Program's mission is to enhance stewardship of Long Island's shark community through scientific research, data sharing with marine resource managers, and educating the public about their important ecological roles. 
There are a variety of shark species found in New York's productive coastal waters.  Sharks play very important roles in our ocean ecosystem, but face a variety of threats from human activities.  SoFo is supporting research and education efforts to help conserve the sharks found in our backyard, with a focus on our unique local population of young White Sharks.
New Shark Exhibit!
Learn about the ecology and conservation of Long Island's local shark species!  SoFo's one-of-a-kind exhibit brings visitors virtually face-to-face with these important marine predators.  Incorporating scientific data directly from our team of collaborating scientists, the interactive exhibit includes a Virtual Shark Tagging Experience, satellite tracking maps, photos from the field, and all kinds of biological factoids about our local sharks.
Research
Our collaborating research team has been studying sharks off Long Island since 2015, and were the first to satellite tag baby White Sharks in the Atlantic Ocean!  Our local waters include the only known nursery area for White Sharks in the Atlantic, and this area is the focus of our scientific efforts.  We use cutting-edge technologies to better understand and conserve the sharks found off Long Island, and collect data for scientists up and down the coast.

Education
In addition to our new shark exhibit, SoFo will be hosting a variety of shark-themed educational programs, public lectures, and school outreach.  Check here for a list of upcoming programs:  https://sofo.org/calendar/

Additional Information:
Press Release Announcement:
 The South Fork Natural History Museum (SoFo) Announces SoFo's Shark Research and Education Program
Exploring a Great White Shark Nursery in the Shadow of New York City:
https://www.newsdeeply.com/oceans/articles/2018/07/24/exploring-a-great-white-shark-nursery-in-the-shadow-of-new-york-city
New tagging tech for great white shark tracking in New York waters:
https://news.mongabay.com/wildtech/2018/07/new-tagging-tech-for-great-white-shark-tracking-in-new-york-waters/
WNYC Interview – A White Shark Nursery in the Waters Off New York City May Provide Clues to Oceanic Health:
https://www.wnycstudios.org/story/white-shark-nursery-waters-new-york-city-may-provide-clues-oceanic-health
Research article – First insights into the movements of young-of-the-year white sharks (Carcharodon carcharias) in the western North Atlantic Ocean:
https://www.nature.com/articles/s41598-018-29180-5
NPR Radio with Greg Metzger – How Marine Life is Changing"
https://www.wshu.org/post/how-marine-life-changing#stream/0
Tagging Juvenile Great White Sharks with OCEARCH:
https://www.onthewater.com/tagging-juvenile-white-sharks-ocearch
New York State Department of Environmental Conservation's Coastal Sharks webpage:
https://www.dec.ny.gov/outdoor/110764.html
For more information, please call Frank Quevedo at 631-537-9735 or email sharks@sofo.org.