When:
November 23, 2018 @ 10:00 am
2018-11-23T10:00:00-05:00
2018-11-23T10:15:00-05:00
Where:
Sag Harbor
NY 11963
USA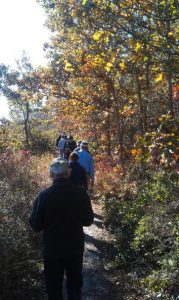 Hike Leader: Dai Dayton, Southampton Trails Preservation Society
In SoFo's ongoing effort to encourage people to get outdoors and enjoy the benefits of nature, we are pleased to suggest this year's Southampton Trials Preservation Society's day-after-Thanksgiving fast-paced hike designed to shed that Thanksgiving stuffing. While shedding those pounds, take in the amazing views of Round Pond, Long Pond, and Little Long Pond. Meet at the end of Round Pond Lane in Sag Harbor. There is no charge for this hike. Any questions, please call Dai Dayton at 631-745-0689.