When:
September 16, 2018 @ 10:30 am
2018-09-16T10:30:00-04:00
2018-09-16T10:45:00-04:00
Where:
Bridgehampton
NY
USA

Cost:
SoFo Members: Programs are free unless otherwise specified. Non-Members: Adults $15, Children $10 (Ages 3-12), Ages 2 & under free. This fee includes admission to the museum, in addition to the program.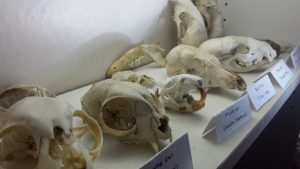 Program Presenter: Miles Todaro, South Fork Natural History Museum Environmental Educator.
Ever find a deer skull in the woods? Join Miles for this fun, forensics-filled program to find out what you can learn from the skulls of animals. Animal skulls have so many unique functions. From them, and other bones, we can learn a lot about the way the animal lived. Together we'll examine real bones from local creatures to learn all about their parts and purposes. Our study of real skulls will be followed by a chance to design our own animals, and the skulls they might need to best fit their lifestyle.
Advance reservations are required for all events. For more information, reservations, and directions to meeting places, please call: (631) 537-9735.