When:
May 26, 2019 @ 1:00 pm
2019-05-26T13:00:00-04:00
2019-05-26T13:15:00-04:00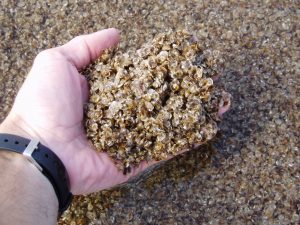 Tour Leader: John "Barley" Dunne, Town of East Hampton Shellfish Hatchery Director
In this program, whether you're a current or potential oyster gardener or just interested in shellfish culture, you'll tour the Town of East Hampton Hatchery's upwelling shellfish nursery on Three Mile Harbor, learn about the work of the hatchery, and find out about or review how the shore-based oyster gardening program works. This is a FREE program.
Background Information: East Hampton Town Shellfish Hatchery and SHSEED Program
"East Hampton Town Shellfish Hatchery introduces over two million oysters, four million clams, and a few hundred thousand scallops into the town's tidal waters each year to help clean the water and fortify the shellfish population…The hatchery's growing operations are divided between a spawning facility on Fort Pond Bay in Montauk, near the train station, and a nursery at Gann Road on Three Mile Harbor.
In February, when the spawning process begins, water is pumped from Fort Pond Bay into tanks, where shellfish release eggs and sperm into the water, larvae grow overnight, and proceed to float around in the tanks. After two weeks, the larvae, which are about a quarter of a millimeter in size, begin to settle to the bottom of the tank, developing into juvenile shellfish.
In April, hatchery staff start bringing the shellfish to the nursery at Three Mile Harbor, where, as the water gets warmer, they continue to grow in containers submerged in water." —27east.com
"Since the 1980's, East Coast waters have experienced devastating shellfish losses due to continuing overfishing and damaging algae blooms. In 2016, a corps of eco-conscious South Fork residents collaborated to expand shellfish education and enhancement programs in East Hampton (EH) town waters by forming an oyster-growing community cooperative, or oyster gardening program. By linking with the successful EH Town Shellfish Hatchery, the EHSEED program created opportunities for local citizens to learn about and help the threatened ecosystem that is part of the vital Peconic Estuary system, resulting in educated and dedicated stewards of the environment."
https://ehamptonny.gov/DocumentCenter/View/95/EHSEED-East-Hampton-Shellfish-Education-and-Enhancement-Directive-PDF?bidId=
Advance reservations are required for all events. For more information, reservations, and directions to meeting places, please call: (631) 537-9735.