**UPDATE ON SOFO'S 31ST ANNUAL SUMMER GALA BENEFIT**
ALTHOUGH WE WERE NOT ABLE TO HOST SOFO'S 31ST ANNUAL SUMMER GALA IN 2020 DUE TO THE COVID-19 PANDEMIC, WE ARE EXTREMELY GRATEFUL TO ALL OF OUR SUPPORTERS FOR THEIR GENEROSITY DURING THIS CHALLENGING TIME.
WE HOPE TO CELEBRATE SOFO'S 32ND ANNIVERSARY WITH YOU ON JULY 24, 2021. PLEASE CHECK BACK FOR UPDATES, WHICH WE WILL ANNOUNCE AS WE KNOW MORE ABOUT THIS SUMMER'S COVID-19 STATE GUIDELINES.
THANK YOU FOR YOUR ONGOING SUPPORT! YOUR INVOLVEMENT MAKES IT POSSIBLE FOR SOFO TO EDUCATE AND INSPIRE EVERYONE TO BE DEDICATED STEWARDS OF OUR PLANETS.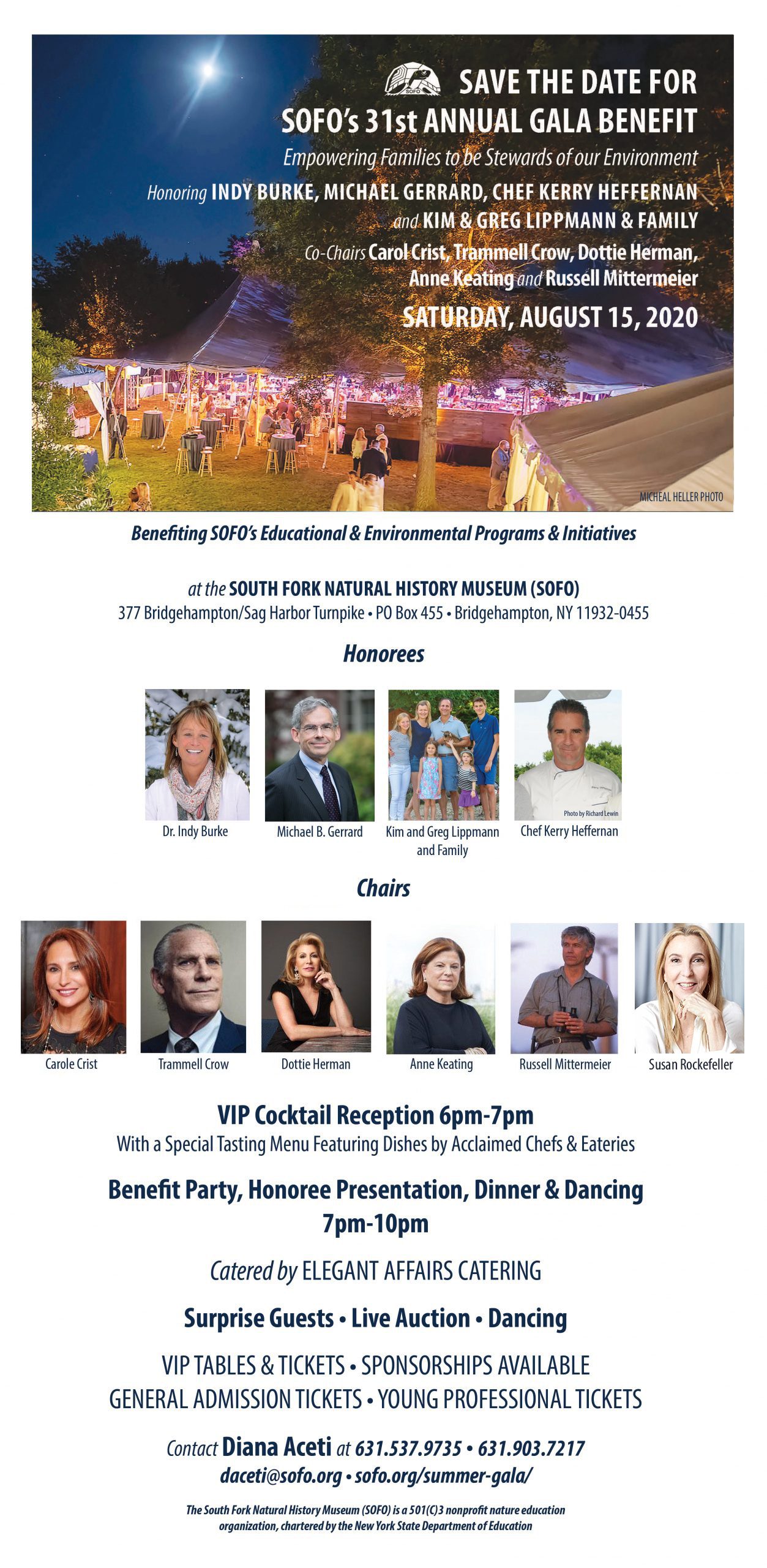 ---
OUR ACCLAIMED HONOREES & CHAIRS
---
Honorees
---
Dr. "Indy" Burke is the Carl W. Knobloch, Jr. Dean at the Yale School of Forestry & Environmental Studies. An acclaimed international leader, she is an ecosystem ecologist whose work has focused on carbon and nitrogen cycling in semi-arid rangeland ecosystems and the effects of land management and climate variability on these systems.  A respected educator and intellectual leader in the U.S. and internationally,  Indy is a fellow of the American Association for the Advancement of Science.  The Yale Forestry and Environmental Studies produces cutting-edge environmental research in the natural and social sciences and is committed to serving global to local communities by helping them address critical environmental challenges such as climate change, green infrastructure development, affordable renewable energy, conservation, and sustainable management.
Michael B. Gerrard is the Andrew Sabin Professor of Professional Practice at Columbia Law School, teaches courses on environmental law, climate change law, and energy regulation, and founded and directs the Sabin Center for Climate Change Law. He also chaired the faculty of Columbia University's Earth Institute from 2015 to 2018.  A prolific writer in environmental law and climate change, Gerrard twice received the Association of American Publishers' Best Law Book award for works on environmental law and brownfields. He has written or edited thirteen books, including Global Climate Change and U.S. Law, the leading work in its field. His most recent book is Legal Pathways to Deep Dacarbonization in the United States (2019, coedited with John Dernbach).
Greg and Kim Lippmann and family are avid environmentalists and long-time friends of SOFO.  Their organic farm in Sagaponack reflects their commitment to our community, to conservation and sustainability. After working as global head of asset-backed securities trading for Deutsche Bank, Lippmann co-founded LibreMax Capital Partners, and is its Chief Investment Officer and Portfolio Manager.  He is a SOFO Board of Trustee.  Kim is a psychologist and conservationist.  The Lippmann children are members of SOFO's YES! Young Environmentalists Society. The family exemplifies SOFO's mission and commitment to be active stewards of our planet.
Chef Kerry Heffernan is currently Chef at Grand Banks, a historic cod fishing schooner moored at Pier 25 New York Manhattan.  Earlier in his career Heffernan honed his skills at such highly regarded restaurants as Montrachet, Le Régence, Restaurant Bouley and Mondrian with Tom Colicchio. He remains active outside the kitchen in philanthropy, serving on the City Harvest Food Council and cooking for Share Our Strength, Project by Project, and both the Central Park and Madison Square Park Conservancies and as an advisor to several nonprofit agencies charged with seafood sustainability and conservation.
Chairs
---
Carole Crist is the Former First Lady of Florida, a Political Strategist, Business leader, and the Founder and CEO of CLC Global Advisors, an advisory firm specializing in Impact Investing, Technology and Philanthropy.
Trammell S. Crow is a Dallas, Texas-based businessman, philanthropist, entrepreneur and innovative leader in business development and operations. He is the Founder of Earth Day Texas, the world's largest Earth Day celebration.   
Dottie Herman is an internationally-recognized business leader, mentor, radio personality and CEO of Real Estate brokerage firm Douglas Elliman Real Estate LLC. 
Anne Keating is a Brand and Philanthropy consultant and former Senior Vice President of Public Relations, Special Events, Press, and Corporate Philanthropy at Bloomingdales.
Russell Mittermeier is Chief Conservation Officer of Global Wildlife Conservation, a primatologist, herpetologist, author and SOFO Board of Trustee. He has been named a "hero for the planet" by TIME Magazine.
$50,000 Founder includes:
30 VIP tickets for pre-Gala VIP 6:00 - 7:00 pm Cocktail Reception and 7:00 - 10:00 Benefit Party
Special listing in our invitation and on our website
Two year Founder Membership, valued at $10,000
Naming Benefits
Check presentation at Benefit
Invitations to members only initiatives/events/programs
Other personalized benefits to be determined
$25,000 Grand Benefactor includes:
15 VIP tickets for pre-Gala VIP 6:00 - 7:00 pm Cocktail Reception and 7:00 -10:00 pm Benefit Party
Special listing in our invitation and on our website
One-year Founder membership, valued at $5,000
Check presentation at Benefit
Invitations to members only initiatives/events/programs
Other personalized benefits to be determined
$15,000 Special Underwriters includes:
14 VIP tickets for pre-Gala VIP 6:00 -7:00 pm Cocktail Reception and 7:00 – 10:00 pm Benefit Party
Special listing in our invitation and on our website
Two-year Benefactor membership, valued at $2,000
Invitations to members only initiatives/events/programs
Other personalized benefits to be determined
$10,000 Benefactor includes:
10 VIP tickets for pre-Gala VIP 6:00 - 7:00pm Cocktail Reception and 7:00 -10:00 pm Benefit Party
Special listing in our invitation and on our website
Two-year Family membership
Invitations to members only initiatives/events/programs
$6,000 Advocate includes:
6 VIP tickets for pre-Gala VIP 6:00 - 7:00 pm Cocktail Reception and 7:00 – 10:00 pm Benefit Party
Special listing in our invitation and on our website
One-year Family membership
Invitations to members only initiatives/events/programs
$2,750 Patron includes:
2 VIP tickets for pre-Gala VIP 6:00 – 7:00 pm Cocktail Reception and 7:00 -10:00 pm Benefit Party
Special listing in our invitation and on our website
Invitations to members only initiatives/events/programs
$1,400 Individual VIP Ticket includes:
VIP pre-gala VIP 6:00 – 7:00 pm Cocktail Reception and 7:00 -10:00 pm Benefit Party
Special listing in our invitation and on our website
Invitations to Members only initiatives/events/programs
$425 General Admission Ticket
7:00 -10:00 pm Benefit Party
$275 Young Professionals Ticket
7:00 -10:00 pm Benefit Party