SOFO is very happy to announce our September Business of the Month
Hampton Coffee Company
Congratulations to this Award-winning Hamptons Classic, a long-standing Supporter of our museum, and a Landmark in our Community
As part of our mission to support our sponsors and other local businesses, SOFO is pleased to launch a new initiative recognizing sustainable companies each month. Our September highlighted business, HAMPTON COFFEE COMPANY, is an award-winning, family-run and environmentally friendly business that supports SOFO and over a hundred different organizations, schools, and charities each year.
"The hospitality and generosity shown by the Belkin family to local and seasonal residents has long been a component of its success," says SOFO Executive Director Frank Quevedo. "Hampton Coffee Company is committed to offering the finest quality coffee and food at its five environmentally friendly cafes from Montauk to Westhampton," adds SOFO Development Director Diana Aceti. "We are extremely grateful to the Belkin Family for being such a good friend to SOFO."
Says Jason Belkin, "Hampton Coffee Company has been honored to be a sponsor of SOFO the past several years. The resources and programming and events that SOFO provides to the adults and children of all our communities here on the East End throughout the year are first-class. We are so fortunate to have an organization like SOFO here in our community.
"Hampton Coffee Company is very honored to have been chosen by this amazing group to be SOFO's first-ever Featured Business. We are celebrating our 25th Anniversary during a unique year, during which we proudly opened our newest cafe in Montauk over the summer to great success. Thanks to the support of our guests and organizations like SOFO, we are able to continue to employ almost 100 staff members in year-round positions with family- and school-friendly schedules as we support all our local schools and organizations like SOFO," adds Belkin.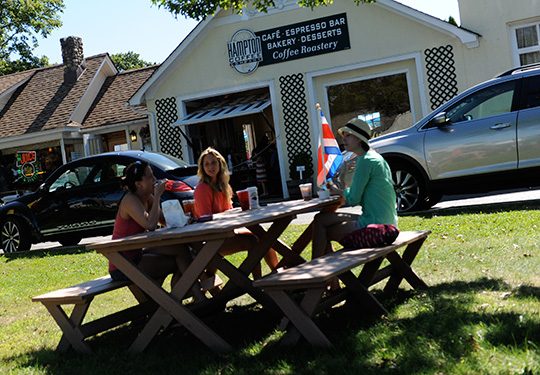 Hampton Coffee Company is committed to a green planet! Each of its cafes are Green Cafés with LED lighting, recycling programs, oil recycling, compostable java jackets, marine biodegradable paper straws, and more. The Water Mill café features solar panels with a monitor inside the café so guests can view a demonstration of the electric being made in real time.
Did you know? Hampton Coffee Company opened for business at its Water Mill location more than twenty years ago in a 1940s-era service station and became one of the first micro-roasteries on the East Coast, roasting the highest quality estate-grown coffees daily. Today, HCC is Long Island's largest independent coffee roaster & retailer consisting of a small chain of espresso bar & cafés, a mail order website, and a custom-built Mobile Espresso Unit –a Mercedes van with our entire espresso bar inside of it!
Hampton Coffee Company's Coffee Roastery delivers fresh hand-roasted coffee to many of the top restaurants and gourmet markets (and even a baseball stadium!) from Manhattan to Montauk every week. They ship their coffee all over the country, and internationally.
Please visit HAMPTON COFFEE COMPANY at one of its many green cafes and Coffee Roastery at its headquarters in Water Mill, NY; in Westhampton Beach, in Southampton, NY; in Aquebogue (North Fork), and Montauk.
For more information, please visit HCC's website at https://hamptoncoffeecompany.com/