A Day in the Life of a SOFO Pond─A Pop-up Exhibit
September 3 @ 1:00 pm - 3:30 pm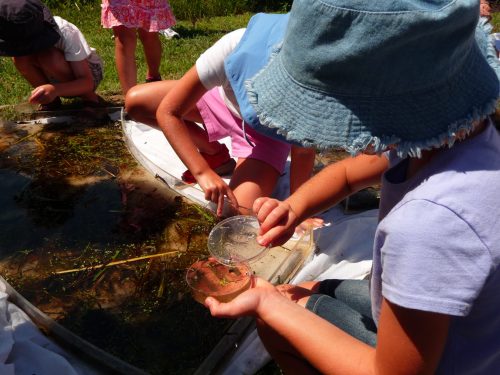 When we stand at the edge of a pond, we tend to notice the larger animals, like frogs, turtles, and birds. But why do those animals choose to live at or visit the pond? We would have to get into the water to see the multitude of smaller animals that keep a pond healthy, but mud would be easily stirred up by a diver or ROV. Join Crystal after she has collected pond water in a variety of containers, leaving plenty of time for the mud to settle and creatures to start moving, and help collect and identify the secret life in the pond using a variety of magnifiers and microscopes. This pop-up exhibit will be held the first Sunday of the month, April through September, so stop by to see how pond life has changed from a spring pond to a summer pond!
Program Leader: Crystal Possehl-Oakes, SOFO Environmental Outdoor Specialist
This program is for all ages.
For nonmembers, there is a $15 fee for Adults and a $10 fee for children for this program. This program fee will also provide non-members with free admission to the museum on a day of their choice. Members are free. Advanced reservations are required for all events.