When:
November 18, 2017 @ 10:30 am
2017-11-18T10:30:00-05:00
2017-11-18T10:45:00-05:00
Cost:
SoFo Members: Programs are free unless otherwise specified. Non-Members: Adults $15, Children $10 (Ages 3-12), Ages 2 & under free. This fee includes admission to the museum, in addition to the program.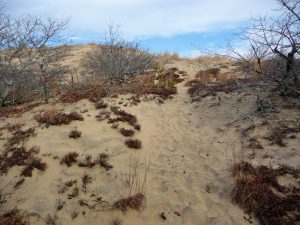 Walk Leader: Crystal Oakes, South Fork Natural History Museum (SoFo) Nature Educator
What do Earth Stars, Pitch Pine, cranberries, and Red Foxes all have in common? They are all able to live and thrive in an area that can be very windy, or hot and dry, or flooded by rain, or even flooded by salt water during strong storms surges. In the summer, the Walking Dunes are a very lush, productive habitat where many animals can hide. In the fall, many of the plants have died or lost their leaves. This allows us to see much further into the forested areas to look for birds, animal signs, and last season's bird nests. Participants, with the use of binoculars, will get to discover birds, learn to read the tracks left by animals, make leaf rubbings in a journal to take home, discover hidden worlds with magnifiers, practice using a compass and map, and end with a shelling walk along the bay beach. The trail is approximately one mile long. Limited registration. Material fee $2 for a journal
Advance reservations are required for all events. For more information, reservations, and directions to meeting places, please call: (631) 537-9735.