When:
July 18, 2017 @ 10:00 am
2017-07-18T10:00:00-04:00
2017-07-18T10:15:00-04:00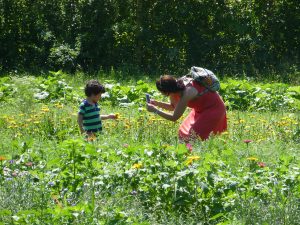 Leader: Dr. Leslie Allee, Director of Curriculum Development and Outreach, Cornell's Lost Ladybug Project
The Peconic Land Trust and the South Fork Natural History Museum (SoFo) team up with Dr. Leslie Allee from Cornell University to search for "lost ladybugs." The composition of ladybug species in North America is changing, help us learn why. Native ladybugs—like the endangered nine-spotted ladybug, New York State's official insect—were once very common but are now extremely rare, while ladybugs from other parts of the world have greatly increased. Help in Dr. Allee's research by gently capturing ladybugs at the farm. Each will be identified and then released. Children must be accompanied by a willing adult participant. If you're interested in Citizen Science, be sure to find out about the new Lost Ladybug app for your smart phone! This program is FREE for everyone, so bring your friends. The rain date is Wednesday, July 19. Please park on Deep Lane and meet at the farm stand. For more information on the "Lost Ladybug Project" visit www.lostladybug.org
Advance reservations are required for all events. For more information, reservations, and directions to meeting places, please call: (631) 537-9735.