When:
August 19, 2017 @ 10:30 am
2017-08-19T10:30:00-04:00
2017-08-19T10:45:00-04:00
Where:
Bridgehampton
NY
USA

Cost:
SoFo Members: Programs are free unless otherwise specified. Non-Members: Adults $15, Children $10 (Ages 3-12), Ages 2 & under free. This fee includes admission to the museum, in addition to the program.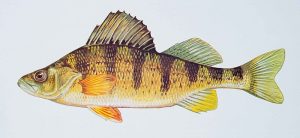 Program and Workshop Leader: Crystal Oakes, South Fork Natural History Museum (SoFo) Nature Educator                  
Fishing is a favorite summer pastime for many families whether you live near fresh or salt water. Crystal enjoyed fishing with her grandfather and father, and her fascination with biology the first time she had to clean a fish helped steer her education to receive a BS in Marine Biology at LIU Southampton College. During a slide show, she will answer many of the questions she had as a budding biologist, such as the age of a fish, how gills function to collect oxygen from water, what that weird balloon was near the fish's spine, what each fin does for the fish, and just what makes a fish a fish. You will also learn about some of the more unusual fishes in our waters. After the presentation, Crystal will lead a dissection of specially prepared perch to answer these and many other questions. Material fee: $15 per fish.
Advance reservations are required for all events. For more information, reservations, and directions to meeting places, please call: (631) 537-9735.