When:
June 24, 2017 @ 3:00 pm – 4:30 pm
2017-06-24T15:00:00-04:00
2017-06-24T16:30:00-04:00
Where:
Bridgehampton
NY
USA

Cost:
SoFo Members: Programs are free unless otherwise specified. Non-Members: Adults $15, Children $10 (Ages 3-12), Ages 2 & under free. This fee includes admission to the museum, in addition to the program.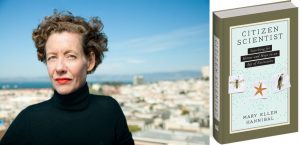 "Citizen science might just be our last, best chance to fight extinction. But is there really hope for threatened species? Mary Ellen Hannibal needed to find out. Hannibal, an award-winning writer and emerging emissary from scientists to the public, sets out to become a citizen scientist herself. In search of vanishing species, she wades into tide pools, follows hawks, and scours mountains. The data she collects will help environmental research—but her most precious discovery might be her fellow citizen scientists: a heroic cast of volunteers devoting long hours to helping scientists measure—and even slow—today's unprecedented mass extinction … Combining research and [a] memoir [of growing up in East Hampton] in impassioned prose, Citizen Scientist is a literary event, a blueprint for action, and the story of how one woman rescues herself from an odyssey of loss—with a new kind of science." —Workman Publishing
Join us on Saturday, June 24 from 3 to 4:30 pm at the South Fork Natural History Museum (SoFo), 377 Bridgehampton/Sag Harbor Tpk., Bridgehampton, NY when Ms. Hannibal will read excerpts from Citizen Scientist followed by a Q & A. A reception for the author will follow the reading; light refreshments will be served.
This program is cosponsored by the Peconic Land Trust.
Advance reservations are required for all events. For more information, reservations, and directions to meeting places, please call: (631) 537-9735.