When:
June 24, 2017 @ 10:30 am
2017-06-24T10:30:00-04:00
2017-06-24T10:45:00-04:00
Where:
Bridgehampton
NY
USA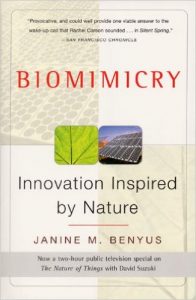 Club Leader: Lisa Kiss
We welcome new members to SoFo's once-a-month discussion group featuring books about nature, science, and environmental issues. Join us for coffee, tea, pastries, and stimulating conversation. Club member's book suggestions are always welcome.
This month we'll be discussing Biomimicry──Innovation Inspired by Nature by Janine Benyus. In a 1997 review of the book, appearing in The New York Times ON THE WEB, Dorion Sagan writes, "Benyus shows once and for all the utter technological superiority of would-be ''lower'' life-forms: the underwater superglue made by mussels; a spider's dragline silk that, ounce for ounce, is five times as strong as steel and five times as impact-resistant as bulletproof Kevlar; and bears and chimpanzees that collect medicinal herbs. Imagine an undiscovered planet in our solar system consisting of intensely advanced life-forms that had perfected waste management, parallel shape-based molecular computing and the processing of nanotechnological materials billions of years ago. That planet is our own. Benyus has had the wit to recognize nature's own genius and make scientists' attempts to copy it the theme of a popular book." You can search for Sagan's complete review by its title, You Can't Beat Mother Nature, at www.nytimes.com.
Advance reservations are required for all events. For more information, reservations, and directions to meeting places, please call: (631) 537-9735.